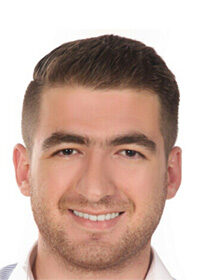 Dr. David Abumanneh
Dentist
Dr. David Abumanneh graduated from the University of Jordan-School of Dentistry in 2012 with a degree of Doctor of Dental Surgery. After working for 4 years in private practice, Dr. David had the opportunity to expand his knowledge and dental experience in the United States. He completed a two-year advanced hospital residency program at MetroHealth Hospital, a teaching center for Case Western Reserve University. This very intense residency program allowed him to expand on his skills in treatment of medically compromised patients, advanced surgical and root canal therapy, esthetic and implant dentistry.
Upon completing his residency program in 2018, he was hired as an attending dentist at the hospital and also a clinical instructor at Case Western Reserve University.
Dr. David is a member of the Academy of General Dentistry and is always pursuing further education to advance his skills and knowledge. In 2020 Dr. David completed a year-long comprehensive training course in implantology with the Chicago Implant Institute.
Dr. David is an empathetic dentist that provides his patients with the highest level of oral care and comfort. He is very passionate about traveling and learning more about all the cultures of the world. In his free time, he enjoys playing sports, and doing crossfit.