Reliable After-Hours Emergency Dentist in Bloomingdale, IL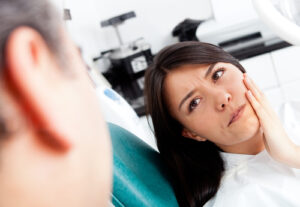 A dental emergency can be a scary situation, and it is essential that you contact an experienced professional right away. Whether your tooth has been damaged by trauma or you are experiencing tooth pain, a cracked tooth, or a broken crown, you are welcome to contact us at Dental Group of Bloomingdale.
We offer fast, reliable services to protect the quality of your tooth. We understand that time is an important factor to save the tooth, so we will schedule an appointment right away. You will have access to the dental treatments that are needed to avoid further complications.
When You Should Call for Dental Emergency Services
How do you know if it is necessary to schedule an appointment for dental emergency services? These are examples of dental emergencies that need to be treated right away:
Cracked Teeth
Broken Teeth
Chipped Teeth
Jaw Pain
Sore or Swollen Gums
Extreme Sensitivity
Severe Toothache
Infection
Broken or Damaged Crown
Broken Fillings
If you are dealing with one of these dental problems, then we invite you to contact us to learn more about the treatments that are available. We will offer immediate suggestions to alleviate your pain, as well as the dental emergency care that can be used to provide the long-term results that you desire.
What to Expect When You Visit an Emergency Dentist
If you need emergency care, what should you expect during the appointment? We will provide the best diagnostics to identify the problem that needs to be treated. Additionally, you can receive quick and effective pain management to relieve your suffering.
These emergency treatments are convenient, and you can rest assured to know that you are in experienced hands. We will work hard to save your tooth and alleviate the discomfort that you are experiencing. If an emergency root canal is needed, then it will relieve the pain almost instantly. Otherwise, we can recommend other treatments that match your individual situation.
When you call, we will do everything that we can to fit you into our schedule. We can also provide emergency hours services in severe situations. You are always welcome to call us at any time to learn more about the after-hours options that are available.
Do you need help with emergency dental services? Then we invite you to call us at Dental Group of Bloomingdale for more information about the options that are available. We are here to help!
Frequently Asked Questions
1. What Is Considered A Dental Emergency?
A dental emergency includes any dental problem that requires immediate treatment to reduce severe pain, stop bleeding, manage an infection, minimize the long-term effects of trauma, or save a tooth.
2. What Should I Do If I Have A Dental Emergency?
If you have a dental emergency, then call our office right away. We will discuss your symptoms over the phone, provide immediate treatment recommendations, and schedule an appointment in our office.
3. How Do I Relieve My Toothache Pain?
Toothache pain can be relieved by rinsing with salt-water or hydrogen peroxide, flossing around the sore tooth to remove bits of food, placing an ice pack on your cheek, or taking OTC pain relievers.
4. How Much Does Emergency Dental Treatment Cost?
The final cost will depend on the required treatment. Our office staff will provide full pricing details before the services are completed, giving you options depending on your budget.